Chicago's #1 Roofing Company Since 2006
Ameribuild & Roofing in Chicago has been providing reliable residential and commercial roofing services for more than 15 years.
Best Chicago Roofing Company
Ameribuild & Roofing, Inc. is a full-service roofing contractor that provides quality roof repair, replacement, and restoration services to homeowners and businesses in the Chicago area. We have years of experience repairing and replacing roofs damaged by storms, weather conditions, and other factors. We are also experts at handling insurance claims related to roof damage. Our team can inspect your property quickly and provide a detailed estimate for the necessary repairs.
We are dedicated to providing our customers with the best possible service and products. We offer a satisfaction guarantee on all of our work. If you are not completely satisfied with our work, we will make it right.
Call us today at (773) 282-7700 or send us a message for a free estimate.
Top-Rated Chicago Roofing Services
Ameribuild & Roofing is a full-service roofing company that offers a wide range of services for both residential and commercial customers.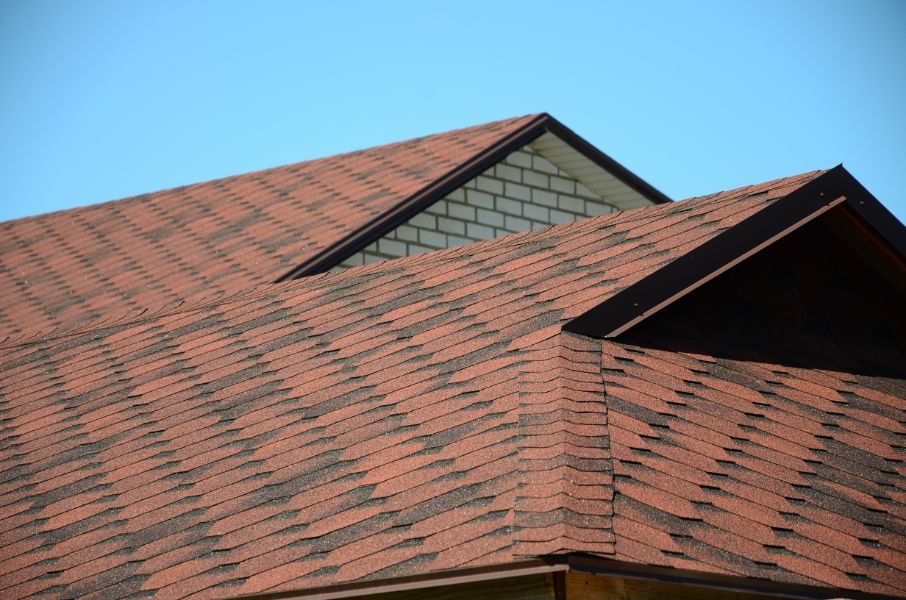 We offer a variety of roofing options for your home, including asphalt shingles, cedar wood, clay tiles and more. We specialize in new roof installation, roof repair, siding, gutters, and storm damage restoration.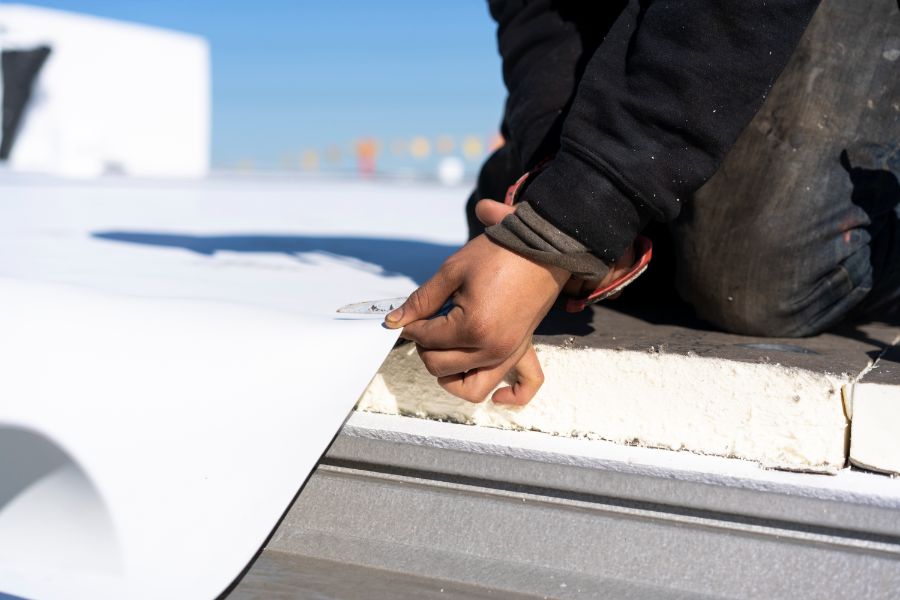 Ameribuild & Roofing is a full-service commercial roofing company that offers a wide range of services for both new construction and existing buildings. We will work with you to find the best roofing solution for your business.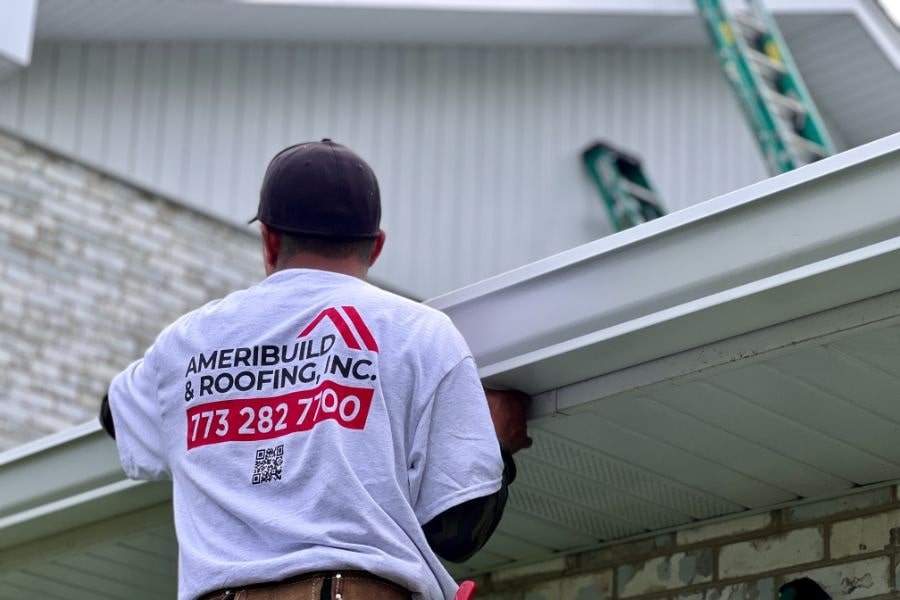 We offer a wide variety of siding and gutter services, including repair, installation, and replacement. We use only the highest quality materials to ensure that your home is protected from the elements.
At Ameribuild & Roofing, we understand that your roof is one of the most important parts of your home. Not only does it keep you and your family safe from the elements, but it also plays a vital role in protecting your property from damage. That's why we offer a free and complete roof inspection to all of our customers. We will thoroughly examine your shingles, all penetrations, valleys, chimneys, skylight (if applicable), gutters, and siding to ensure that your roof is in good condition. If we find any storm damage, we will work with your insurance company to file a claim and get your roof repaired as quickly as possible. We want you to have a safe living environment, and we will do everything we can to make sure your roof is up to the task.
When Should you Replace Your Roof?
The average roof lasts 20-25 years. However, that does not mean you should wait until your roof is 20 years old to start thinking about replacement. Many factors can affect the lifespan of your roof, and it is important to be proactive in order to avoid costly repairs down the road. For example, if your roof was poorly installed or made with substandard materials, it is likely to need replacement sooner than a well-built roof. Additionally, extreme weather conditions can accelerate wear and tear, so if you live in an area that is prone to severe storms, you may need to replace your roof more frequently.
As any experienced roofer will tell you, one of the most important components of a strong roof is quality shingles. However, even the best shingles will eventually break down after years of exposure to the elements. So, how do you know when it's time to replace your roof? In general, you can expect an average roof to last 15 years in Chicago. However, this lifespan can be shortened by severe weather conditions, such as hail storms or strong winds. If your roof is more than 10 years old and has sustained significant damage, it's probably time for a replacement. Of course, the only way to be sure is to have a professional roofing inspection. Regular inspections can help identify potential problems early on, and taking steps to protect your roof from the elements can extend its lifespan significantly. By being mindful of the condition of your roof, you can ensure that your home is always safe and protected from the elements.
Ameribuild & Roofing has been providing expert roofing services to Chicago homeowners for more than 15 years. We would be happy to take a look at your roof and give you an honest assessment of its condition.
Rated 5/5 stars on Google
Our commitment to quality and customer service is unrivaled, which is why we're rated 5/5 stars on Google. We're proud to be the go-to roofing company for anyone in need of a new roof or repair.
Our Simple & Easy Process
At Ameribuild & Roofing, we have a simple process to ensure that your roofing project is completed efficiently and effectively.
Why Choose Ameribuild & Roofing, Inc?
Whether you need a roofing contractor for a small repair or a complete roof replacement, we are licensed, bonded, and insured for your protection. Here are just a few reasons why you should choose Ameribuild & Roofing:
Roofing Insurance Claims Experts
The roofing insurance claim process can be confusing and time-consuming, but our team will take care of everything. We will file the claim on your behalf, work with your insurance adjuster, and make sure you get the maximum coverage for your repairs.
Ameribuild & Roofing Reviews
Ameribuild & Roofing is a full-service roofing company that offers a wide range of services for both residential and commercial customers.
"I am super Excited that my roofing and siding are now done at my house and it looks like a brand new home I am super thankful for Henry and Thomas who took me step by step in this journey. I was really happy that they answered all my questions before the work and during. I can honestly say that I will recommend them to my friends and family If you're looking for someone who could fix the problem and as willing to explain everything detailed these are your guys thank you again you guys rock! 🖐 :)"
"I can only highly recommend Ameribuild & Roofing! They did superior work – both of their crews (roof and gutters). The owner was on the top of the entire project and always answered his phone or called back immediately. This is very rare and helpful when having exterior renovated. I think this is their biggest advantage comparing to other contractors. A+ company!"
"Henry and Thomas are a great team. I seen them fix my neighbour roof. After some bad weather this summer and i asked them a couple questions and wanted to see if I could get some details about work. Henry andThomas explained everything to me and we got the ball rollong I cant be more excited. House looks brand new and ready for any unexpected weather. You guys are a great duo. Keep up the good worl and wish you guys much succes"
Work With Ameribuild & Roofing, Inc.
Whether you need a new roof or repairs, we're here to help. We offer a wide range of roofing services, and we're always happy to answer any questions you may have. Get in touch with us today to get started on your project.